Hybrid Fighting had a great turnout at the
Central New England Karate Championships
in Worcester MA on Sunday August 12 2012.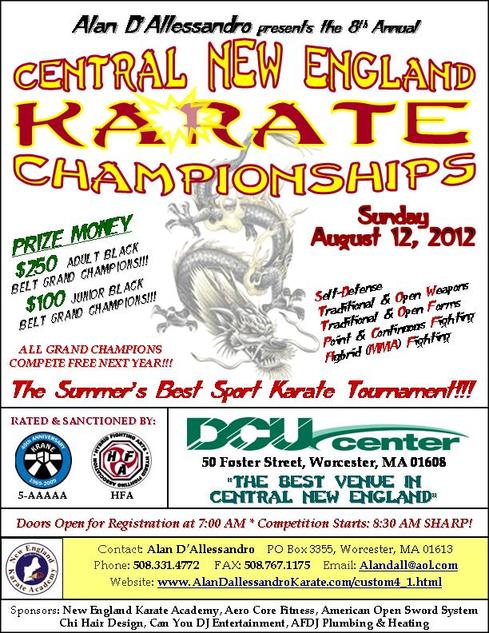 Hybrid Fighting was at the Ocean State Grand Nationals
in Warwick RI on Sunday April 15 2012.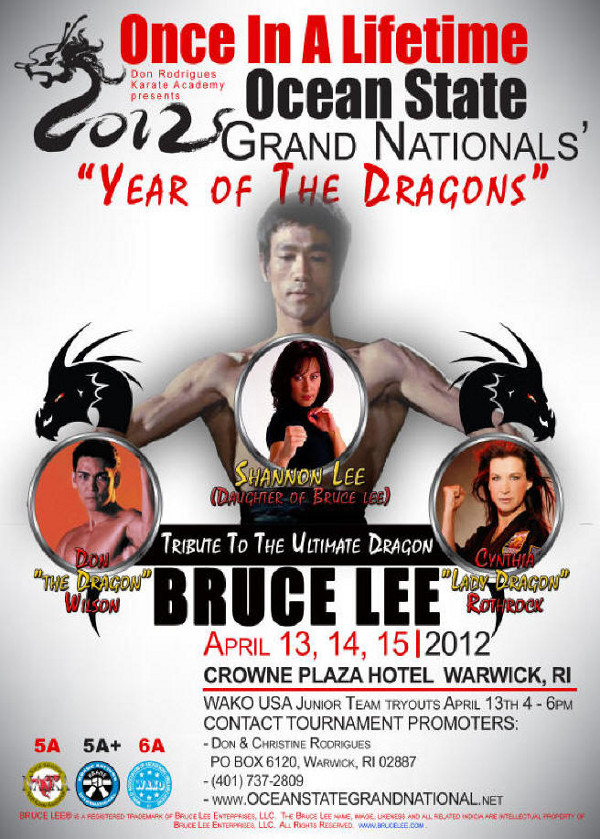 Hybrid Fighting was a smash at Terry Dow's Martial Arts Symposium
in Manchester NH on March 17-18 2012
Check out Teen/Daytime and Nighttime Finals match videos here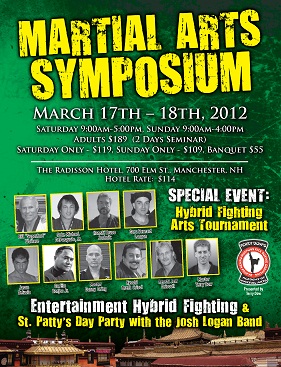 There were great fights in the men's, women's, and teen boys and girls divisions in Hybrid Fighting at the 14th Alliance Tournament
in Londonderry NH on Sunday November 6 2011.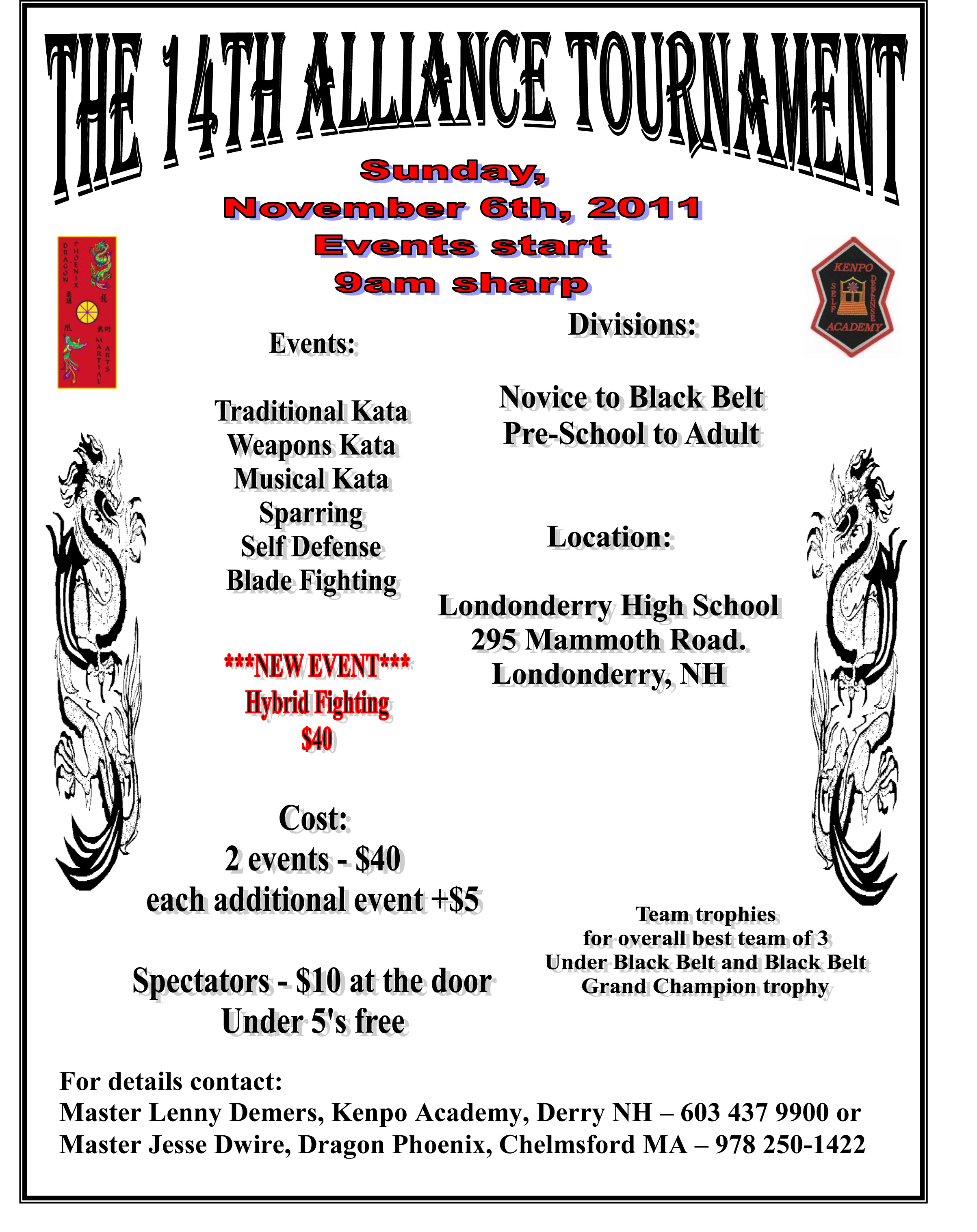 Hybrid Fighting rocked at the Central New England Karate Championships
Worcester MA on Sunday August 14 2011.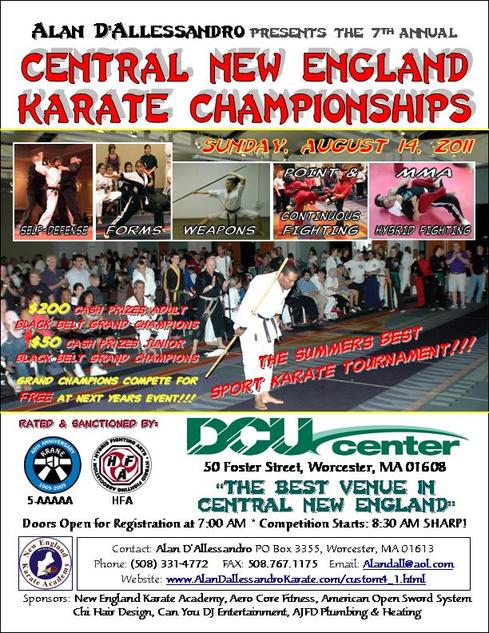 Hybrid Fighting ruled at the New England Open
Marlborough MA June 4 2011.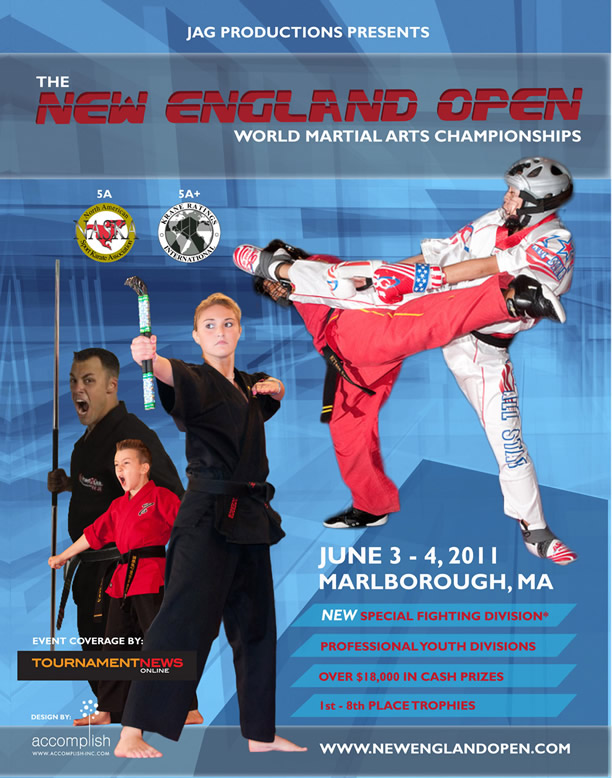 Hybrid Fighting put on a great show at Terry Dow's Martial Arts Symposium, including the very first Women's HFA match.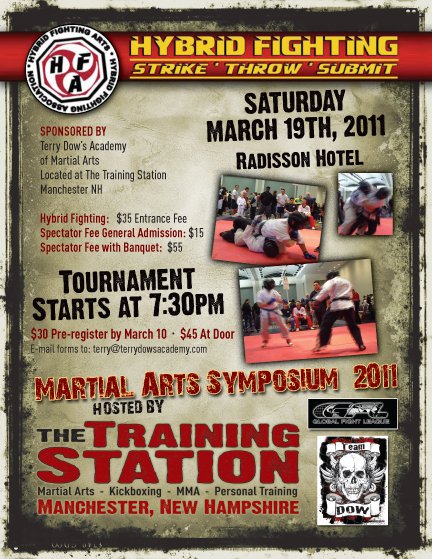 Hybrid Fighting was an exciting addition to the
Central New England Karate Championships
(Worcester, Massachusetts, August 15 2010)






Hybrid Fighting rocked at the
New England Open
(Marlborough, Massachusetts, June 5 2010)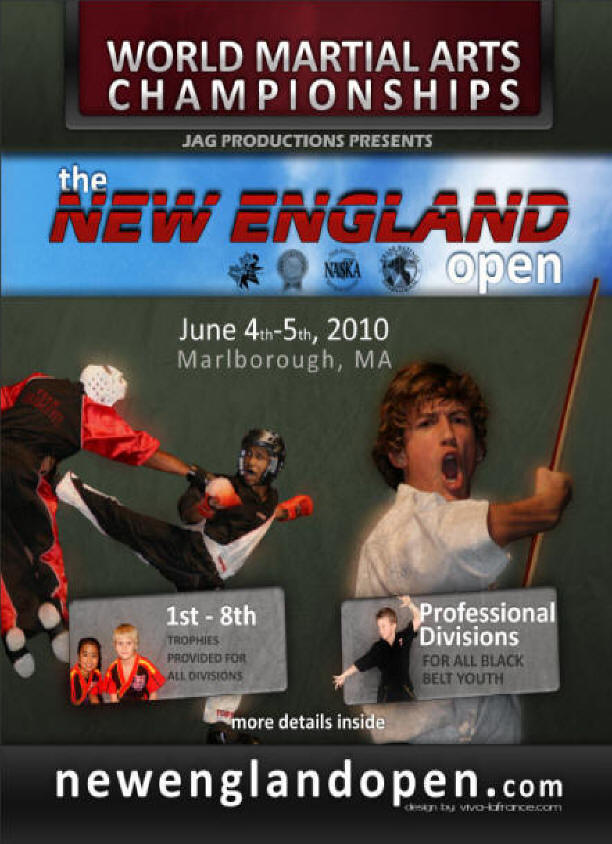 Hybrid Fighting was honored by the presence of
Bill "Superfoot" Wallace
at the Ocean State Grand Nationals
(Warwick, Rhode Island, April 10 2010)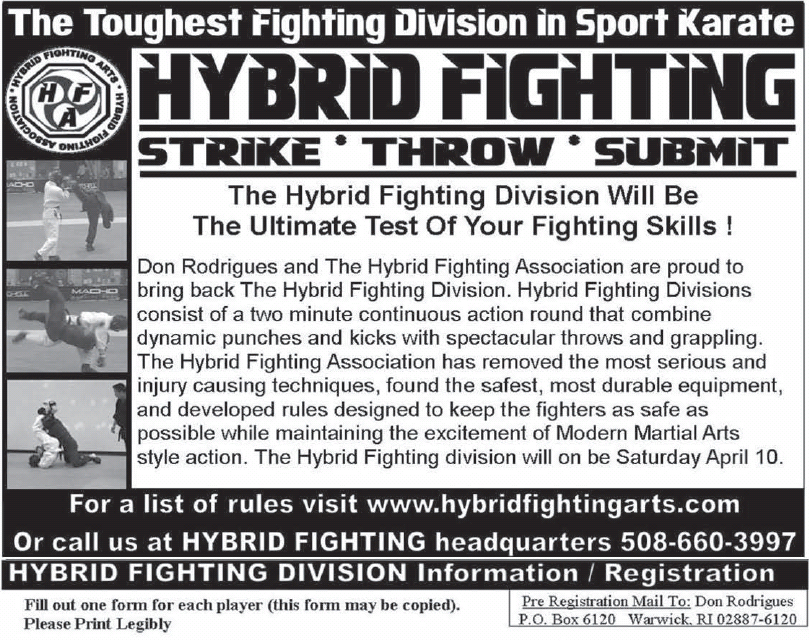 The first annual Hybrid Fighting tournament
was a great success, with the children's division debut and exciting technique and sportsmanship demonstrated by the adults and children.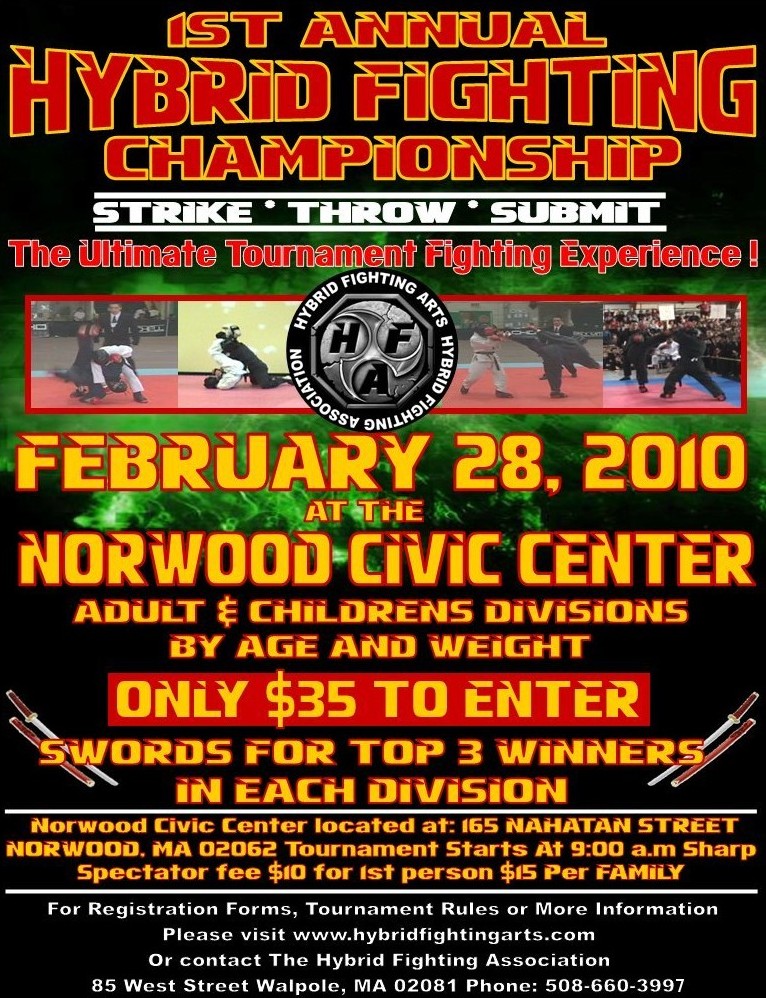 May 2009. Hybrid Fighting put on a great show
at the
New England Open Karate Tournament
Marlborough MA, May 30 2009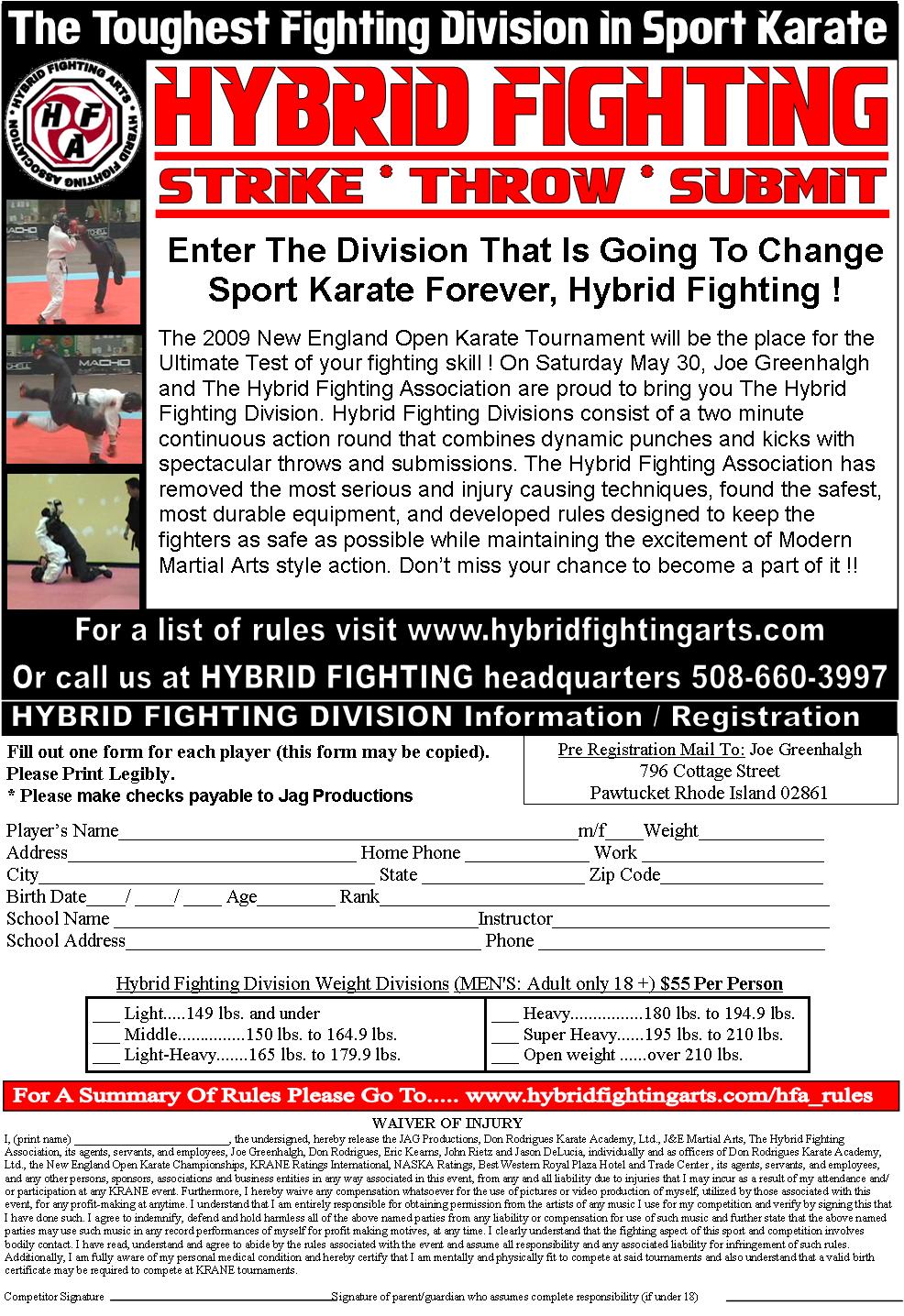 April 2009. Hybrid Fighting rocked at the
Ocean State Grand Nationals Karate Tournament.
Check it out at hybridfighting.com




November 2008. Hybrid Fighting is now officially part of the Ocean State Grand Nationals Karate Tournament!
April 3-5 2009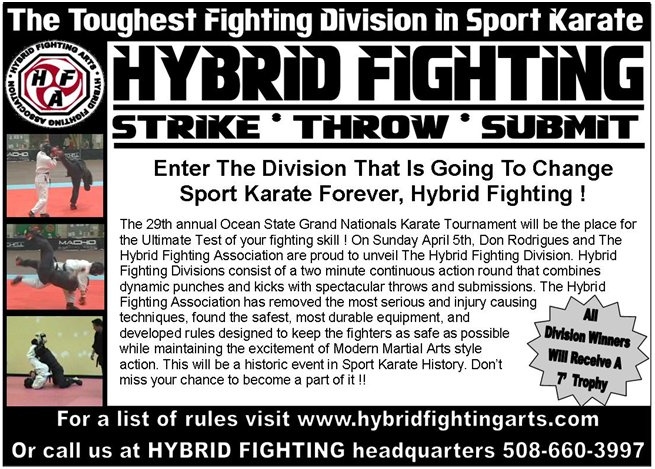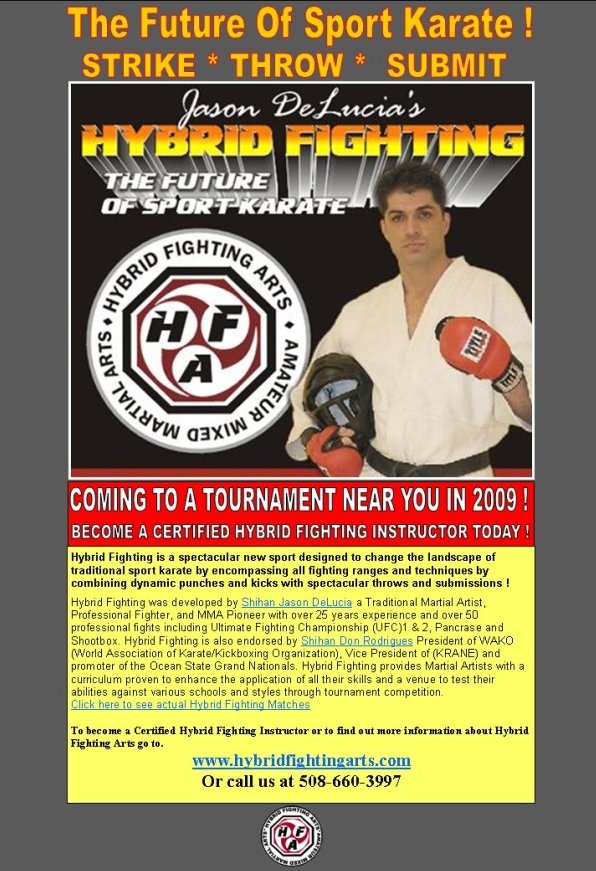 Hybrid Fighting is a spectacular new sport fighting division designed to change the landscape of traditional sport karate by encompassing all fighting ranges and techniques and combining dynamic punches and kicks with spectacular throws and submissions.

Developed by Shihan Jason DeLucia and Shihan Eric Kearns, Hybrid Fighting focuses on technical proficiency and mastery of technique. It provides Martial Artists with a curriculum proven to enhance the application of skills through in-class sparring and tournament competition.

Whereas "Point Karate" focuses only on the punch and kick aspect of the art and "MMA" type competitions often degenerate into "ground & pound," Hybrid Fighting gives people an arena in which to test all of the skills they have worked so hard to develop.

Most people, although they may love the competition and fighting experience, cannot afford to be out of work due to fighting related injuries. Through years of research and development, Hybrid Fighting has removed the most serious and injury causing techniques, found the safest, most durable equipment, and developed rules designed to keep the fighters as safe as possible while maintaining the excitement of MMA style action.

Hybrid Fighting Arts enhances the fighting experience for today's Martial Artists, while upholding the integrity, honor, character and safety of the competitors.

For a look at the future of Sport Karate and Amateur Mixed Martial Arts, check out http://hybridfightingarts.com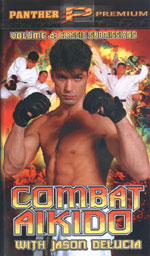 ON SALE NOW !
NOW AVAILABLE
COMBAT AIKIDO WITH JASON DELUCIA
Produced by Century Video click this link to purchase these
amazing videos at discount prices !

With a feud that dates back to the days of Pancrase, Bas Rutten and Jason DeLucia met face to face at the IFL. For those of you who weren't aware, this feud is close to being 10 years old, and the last 3 years, Bas and Jason have gone back and forth on the sherdog.com forums. They finally came face to face, and Original Hardcore MMA was there to capture the whole thing on video.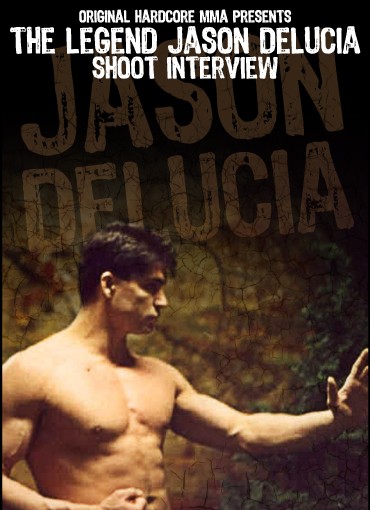 JASON DELUCIA SHOOT INTERVIEW
NOW AVAILABLE ON DVD
This two-hour interview will take you
inside the world of a true legend.

CLICK HERE


NOW BOOKING SEMINARS
Jason is available for seminars and personal appearances.

"WEEKEND UPDATE" with Jason DeLucia
October 17, 2007. Q&A with a Legend about a Legend
Click here for "Frank Shamrock on Randy Couture"



June 22, 2006. People say boxing is dying a slow death and talk of how Larry Merchant disrespects MMA and fighters. Well, Larry Merchant has always had a problem. He is insincere yet opinionated, arrogant yet clueless. Disrespectful towards fighters and blatantly antagonistic. Boxing has been in the light so long and control over the sport so tight that they never saw this coming, or never believed it could come to fruition. And the definite wrong thing to do is cast aspersion on the fighters or the sport, because there is a litmus test. You take any and I mean any pro boxer and put him in there and you know what happens. Of course that's not to say that boxers can't fight. But boxing is much less of a fight than MMA. And paid mouthpieces like Larry Merchant are a shot in the foot to the sport of boxing. Though you could make a boxer like Tyson or Jones very effective in this environment and gain respect for boxing. In fact, it would amp up business if you could create that rivalry. Even better, imagine Roy Jones or Mike Tyson as a boxing title holder knocking out an MMA champion. Then you'd generate a renewed interest in boxing, a renaissance. But disrespecting MMA ain't gonna make it go away, it's only killing boxing quicker.



May 7, 2006. Greatest living achievement award goes to Minowa Ikuhesa. He successfully continued to execute forward ukemi kani basami ankle pick against Semmy Schilt. Had either of the two mandatory counter strikes (knee or field goal kick to the head) been successfully applied, Minowasan would most assuredly be dead. He knew it going in and did it anyway and succeeded. In my mind that's a win, and a Nobel Prize for courage.


While we are giving out Nobel Prizes there are two we should mention. First, Rorion Gracie's "Rape Safe" video for providing doable realistic methods that address real human atrocities. Fighters could learn more from this tape about rape defense than much of what is out there for fighting. Rorion gives essential strategy that at one time schools wouldn't teach because of their value to fighters. And he does it for one reason, women's safety.


Second, Jim Brown for most effective use of martial arts in combatting street gang violence. He used his time spent with UFC not to promote himself but to challenge gang members to have honor and courage and at least say, "If you want or have to fight, do it like a real man one on one without a gun." And he went to the streets to talk to these people. He continues to this day, and the difference he's making will be felt in this country forever. He's turning hard core into peace corps. And the true influence of his work will be seen in years to come. God bless Jim Brown.



Feb 18, 2006. This just in: Have you seen Bas Rutten and Stephen Quadros together? A must see for people who wonder what's lovable about Bas, this is it. Stephen Quadros is equally lovable but more so in person. A penetrating personality such as his is as close to parental supervision as you could get for Bas without someone applying the Vulcan Mind Meld at some point. Americans still love Bas, it's just that some of them want to kick his ass.

To Sensei Willy and the Lamonte County Avengers (Indiana):
Thanx for the tree and God bless the fruit





See Jason's posts on
Aikiweb.com
AikidoJournal.com
FightingArts.com
KarateForums.com
MartialArtsPlanet.com
Subfighter.com
Sherdog.com
Bullshido.net
KungFuMagazine.com

for insights from one of the pioneers of MMA




CONGRATULATIONS, JASON!
8/23/2003
Jason DeLucia defeats Matt Rogers by submission in his comeback fight at
Frank Shamrock's Shoot Box debut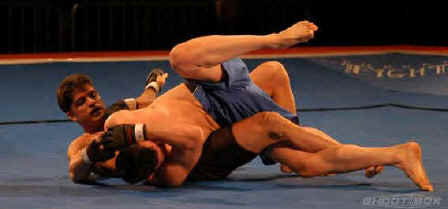 HOME

BIO

FIVE ANIMAL KUNG FU

HISTORY

RECORD

LINKS